We all hope the time in which it is presented the new mobile phone smartphone from Apple, maybe June is the month specified for that presentation, but obviously out of date or where it introduced the new Apple iPhone 5 have to surprise widely some form since its last version was not liked by the fans or rather did not reach the claims of all. So the new iPhone 4S even though we brought a wealth of interesting new features in their software and some new hardware in their design was not liked by the users who expect a change in him. Meanwhile do not yet know the new design of the iPhone 5 but there are some users who have created some concepts more than attractive and personally that we see today I think is the most attractive of all.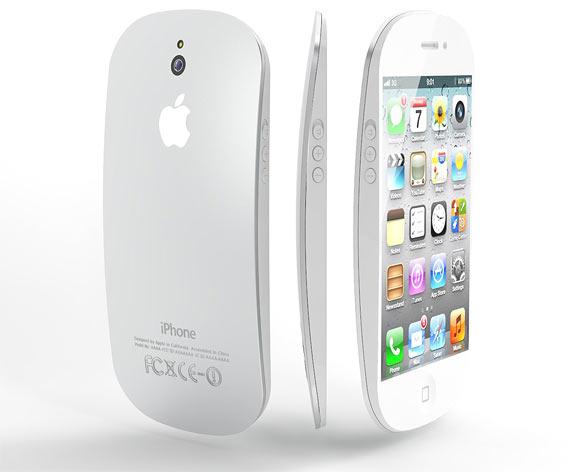 This concept of the iPhone render 5 presents a revolutionary design, while Apple fans eagerly await the launch of another successful product of Apple iPad 3 we are talking about some creative minds and begin to dream about the arrival of the new iPhone 5, still forecast release. So inspiring designers in the company of the legendary Steve Jobs presents the world as they hope will be the appearance of Apple's smartphone future, for today we have a render created by the Italian Federico Ciccarese.
After analyzing the various rumors published on the new iPhone 5 through various technology-specific sites Federico created this beautiful rendering that can be a real revolution in the lines of Apple's smartphone. His version of the world's most coveted phone has a curvature similar to the Apple Magic Mouse, Apple's famous touch pad with rounded edges it becomes more enjoyable to take with our hands. The designer chose the Retina Display screen which by the nature of the new phone it should be expanded from one end to the new devices.
In practice this can provide an even better communication as the microphone and speaker are positioned in a way best suited to the current generation. Another important change is that this render shows the change in position of the handset which comes from the top to move to the side because of the new design and for many this is an advantage since walking down the street with him the wire is best located. For the images presented the termination of this iphone 5 is made ​​of aluminum in the same style of many Apple products like the MacBook Pro and MacBook Air, the end result is attractive and elegant reinforcing the proposal a 100% new in its proposal practically designed from scratch.
Not the first time the designer Ciccarese showed the world its own version of Apple products. This also had placed a future television Cupertino company also collected based on internet rumors. Particularly the proposed new iPhone 5 presented in this case attracts me to bring a modern, attractive and certainly more than innovative.